hope...dream...wish
sounds like a good way to start 2011!!
...haven't progressed much with stitching over the Christmas break!
My son is still home on holidays...he was going back to work next week,
but as he works and lives in the flooded Rockhampton area he probably
will be staying longer...which is nice..
His unit isn't in a flood area, but as the roads are cut by the flood he can't get through.
The Christmas tree is put away...
We spent Christmas quietly...which was the plan...
Seem to be a little slow at starting the new year...
maybe we are in holiday mode even though at home!
...or maybe it's just all the rain!!
I've been thinking about what to achieve in quilting this year...
a couple of new projects, and definitely finish some
...as 2011 begins all the new exciting BOM's are popping up
on blogs...which ones to make?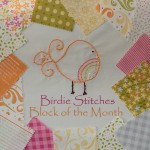 I'm tempted by this one...love the birds!
...then I was reading at Charming Chatter to choose a word
for the year.
Previous I have liked joy... contentment...
so this year I will add ...hope...wish...dream
but mainly concentrate on hope...